Thunder Run Prep
Death by Bread
Support the Cause
Raising funds to Support Hothouse Theatre's work.
Click here
Judging from the endless trends being handed down from the 'Get down and physical' school of half baked ideas about how to become super fit, beat your PB and live forever, you could be forgiven for thinking that runners spend most of their time either preparing for their next big run or recovering from the last one. One week it's all about having a detailed programme that will get you running ¾ of your target distance on a regular basis over a 10 month period. The next it is how you have to stop running at least 3 weeks before the big day if you are to stand any chance of getting round with all your muscles still in tact, your tendons completely unstrained and your dignity only slightly bruised by the several plus-sizes in lycra that sailed passed you in the final run-in while singing defiantly, 'it's all about the base.' There is also loads of advice, mostly unsort, about what to eat, when to eat it and what flavours or delivery systems are best to add that extra kick in the final sprint that will help retain your dignity levels and make you feel like a true athlete, as you collapse into a pool of your own congealing sweat. Despite all the leaps and bounds that sport dietary science has made in the last few generations, a pasta heavy spag bol remains the favourite. The whole issue of well intended and, I have no doubt, well researched advice falls down on one small but rather poignant fact. Most fun runners are by their very nature, 'also rans' and know that they can generally ignore just about any advice they read in Runners World/Realm/Times without any adverse affect on their performance. Besides, as someone who studies these things once said to me, with Mandela like wisdom, as we approached the weekend of a big race, "Nothing you do now is going to make you any fitter."
And so, a week before Thunder Run, when the father-in-law came up for the weekend, I had no qualms about helping him sample a bottle or 2 from the stash left over from our May trip to that well stock supermarket we like to call France. The results were of course predictable on the wine drinking front. It was all very nice. A little too nice and the Thunder Run training programme, such as it was, in it's final and crucial phase, was unceremoniously kicked into touch. That was predictable enough and in any case nothing I could do from here on in was going to make me any fitter for the big weekend, right? The problem wasn't the wine. It was that the father-in-law had booked himself on a bread making course at the Welbeck School of Artisan Food. He came back, night after night with loaf after loaf of different styles of delicious bread. Baguettes, sour dough, whole meal, malted grain, ciabatta. You name it, he made it and brought it home. And yes we had to eat it. There may not be anything I could do at this stage to make myself any fitter. However, there was still time to make myself heavier. I'm not sure if it is possible to get bread poisoning, but if it is, then I did. By the end of the weekend I felt like a heavy rye bread loaf must feel before it goes in the oven and experience tells me that a heavy rye bread loaf isn't going to do too well in a 24 hour 10k relay race. It's going to be a long hard weekend.
Thunder Run 2017
Thunder Run is a 24 hour trail relay race consisting of 10k laps around Catton Park, on the Derbyshire/Staffordshire border. Guy will be running this gruelling race to raise funds for Hothouse Theatre's 2017-18 theatre season. Guy will be running in a team of 8. The aim is to do 3 laps each over the 24 hours of the race. "Last year I got 1.5k into my second lap at 1:30 a.m. before 'finding' a pot hole, doing my ankle in, and hobbling the rest of the lap. Before settling down by the campfire and 'red wining' with the emphasis on 'whining' my way through the rest of the event. This year I have a date with the 1:30 shift!" - Guy
donate here
Give to Hothouse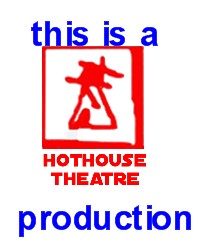 Oh My Nottz is a Hothouse Theatre production. Please support us so we can keep it going.
Click here