Hothouse Theatre's Nottingham Film Festival
2016
@ Nottingham Contemporary
Full report
on Hothouse Theatre's nottingham Film Festival. The only international film festival run by young people.
Have a look at the report
This year's Nottingham Film Festival as a great success. There were 40 short films shown all of excellent quality. There were funny ones, uplifting ones and several that made you think. There were 8 categories in all but the most highly contest were the Fictional Film and the Young Person's Film categories.
As ever with Hothouse Theatre's film festivals, it was the audience that voted for the best films.
This year the judges introduced a Special Recommendation award for those films that did not win but had displayed excellence in filmmaking. Have a look at the report and see what you think. Many of the films are available to see on the report.
Have a look at the report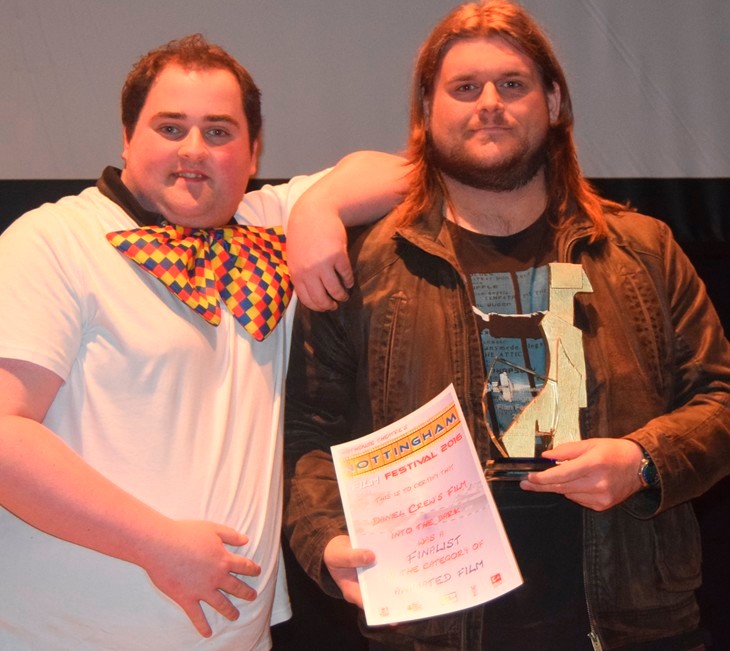 All the films were original and of 10 minutes or less in length. There were 8 categories;
Best Fictional Film - Shelter
Best Factual Film - Woodland Workshop
Best Young Person's Film - Super Gran
Best Music Film - Happiness is a Harmonica
Best Animated Film - Into the Dark
Best Advert or Trailer - Diwali
Best Artistic Film - The Door
Best Foreign Language Film - Best Man
Best Film - Best Man Winners of each category received a trophy made by local artist
Paul Matosic.
There was also be an overall Best Film prize awarded.
Hothouse Theatre's Nottingham Film Festival report
The 2014 Film Festival