The First Lap
Support the Cause
Raising funds to Support Hothouse Theatre's work.
Click here
And they are off! The hours of waiting around. Twiddling parts of the anatomy that you don't normally have time to twiddle, are over and the race is under way in earnest. 600 plus teams of 8s, 5s, 2s and 1s. Yes some people do a 24 hour 10k relay race, solo. Some even stay out on the course for the whole 24 hours. It is for this reason that Thunder Run is probably the only public event in the country where the first aid tent is fully equipped for major psychological trauma. The tradition is for us all to be there for the start, cheering our team mates on as excited waves of goose pimples ripple through the crowd as the runners race, run, jog, walk and hobble passed. All shades of human ability are represented here. Some more represented than most. Slow times will be the order of the day.
Then to the 2.5k mark to cheer them passed again and get a feel for just how far your team is off a podium finish … already. Then the final hill, 0.5k from the finish, to get a handle on just how bad you are going to feel in a couple of hours time when it is your turn. And so back to base camp to pick the brains of the intrepid heroes about the state of the course, the need to wear trail shoes, additional body padding or just a blindfold to get round intact/without slamming into a random tree/avoiding sheer terror as the reality of the task you have willingly, without having your arm or anything that you might otherwise be twiddling, twisted to make you do it. My first run? Estimated time of start 6:45. Just time to get myself into the zone. What I could do with now is a peanut butter sandwich to steady the nerves.
Thunder Run 2017
Thunder Run is a 24 hour trail relay race consisting of 10k laps around Catton Park, on the Derbyshire/Staffordshire border. Guy will be running this gruelling race to raise funds for Hothouse Theatre's 2017-18 theatre season. Guy will be running in a team of 8. The aim is to do 3 laps each over the 24 hours of the race. "Last year I got 1.5k into my second lap at 1:30 a.m. before 'finding' a pot hole, doing my ankle in, and hobbling the rest of the lap. Before settling down by the campfire and 'red wining' with the emphasis on 'whining' my way through the rest of the event. This year I have a date with the 1:30 shift!" - Guy
donate here
Give to Hothouse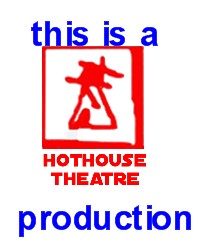 Oh My Nottz is a Hothouse Theatre production. Please support us so we can keep it going.
Click here