Watson Fothergill
Nottingham's most famous architect.
Watson Fothergill (1841 – 1928) is perhaps Nottingham's most famous architect. He designed over 100 buildings, many of which, to this day, are the most noticeably and impressive landmarks in the city. You may know nothing about him, but the chances are that you've noticed at least one of his buildings and admired it, if only for a passing moment. The Fothergill style was old English, Gothic with a leaning towards red brick with lines of black brick and lots of turrets. As you walk around Nottingham, you will notice several building in that style, many of which are Fothergills. He also did a lot of other building in slightly different styles. But they were always very grand with a lot of attention to detail. His work spanned from 1864 to 1912.
His offices on George Street in Hockley, have recently been repaired after an incident involving a careless delivery driver and his lorry. As well as being Fothergill's work place, the building served as an advert since it contained examples of all the features he had incorporated into his buildings. Making it one of the most important building in Nottingham
Fothergill's Office
Give to Hothouse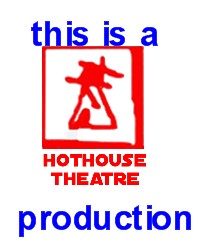 Oh My Nottz is a Hothouse Theatre production. Please support us so we can keep it going.
Donate here
Fothergill's best known buildings
Albert Hall - 1873 - This is an atypical Fothergill. No red and black brick on show here. But it is a wonderful building and is still one of the best concert spaces in Nottingham with excellent acoustics.
Albert Hall, Nottingham
Nottingham Daily Express Offices - 1876 - Again, no red and black brick, but you can see the Fothergill influence clearly in the design.
Nottingham Daily Express Offices
Woodborough Road Baptist Church - 1895 - Plenty of red and black brick this is a typical and obvious Fothergill.
Woodborough Road Baptist Church
Jessop & Son, King Street - 1897 - a typical and wonderful example of a Fothergill.
Jessop & Son, King Street
Helena Kate
Recycle your ink cartridges and help Hothouse keep Oh My Nottz going!
All you have to do is: register with Recycling 4 Charity order the envelops stick them in the post Then the money will come flooding into Hothouse!
Click here to find out more