Friday Night
Irresponsibility in a Glass
Support the Cause
Raising funds to Support Hothouse Theatre's work.
Click here
Surviving the lack of crunchy peanut butter aside.* The main challenge to any Thunder runner has to be dehydration. Whilst the weather did it's level best to remove that challenge, a down pour of biblical proportions, that turned the top 3 inches of what was a firm, decent running surface, into something resembling a disconcertingly brown form of porridge, our team spent Friday night trying to ensure that the dehydration challenge remained and real and present one. Cider that tasted of mangos. Largely because it had mangos in it and was consequently like something that you would get with the posh and ultimately unsatisfying continental option at a bed and breakfast somewhere south of the Watford Gap. Reverend Eaton – a fine real ale that did it's very best to stand up to the disappointment of being served in a plastic pint pot thing.
Several glasses of Roche Mazet – that stalwart of French wine guzzling that has laid the foundations of many a morning's rough head. Of course, if we had been taking it really seriously and decided to go for it on Olympian proportions, there was also gin, rum and 5 malt whiskeys available. We like to run a well stocked caravan. It was decided that a degree of abstinence was the better part of Thunder Run valour and these option remained largely untouched. Although not before certain subjects were rashly visited and much bollocks talked about: the general nature of things, the existence or otherwise of God, the potential genders of said deity, the value of a weather app on a smart phone and how some people should just get real and accept things as they are … crunchy peanut butter aside of course. All in all, the levels of responsibility were as you would expect the night before running several laps of a challenging 10k course, that has spent the night largely under water. *I will not disclose the identity of the person who is ultimately responsible for the failure of the jar of crunchy peanut butter to arrive at this year's Thunder Run. But she knows who she is and is going to have to share a caravan with a grumpy old man whose inner child has been spurned and is indulging in a full on sulk for the next 36 hours.
Thunder Run 2017
Thunder Run is a 24 hour trail relay race consisting of 10k laps around Catton Park, on the Derbyshire/Staffordshire border. Guy will be running this gruelling race to raise funds for Hothouse Theatre's 2017-18 theatre season. Guy will be running in a team of 8. The aim is to do 3 laps each over the 24 hours of the race. "Last year I got 1.5k into my second lap at 1:30 a.m. before 'finding' a pot hole, doing my ankle in, and hobbling the rest of the lap. Before settling down by the campfire and 'red wining' with the emphasis on 'whining' my way through the rest of the event. This year I have a date with the 1:30 shift!" - Guy
donate here
Give to Hothouse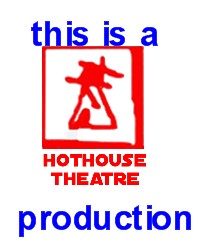 Oh My Nottz is a Hothouse Theatre production. Please support us so we can keep it going.
Click here