A Good Read/Listen/Watch
Found in his kitbag after a sniper blew his head off.
Charles Hamilton Sorley, 1895-1915 When you see millions of the mouthless dead
Across your dreams in pale battalions go,
Say not soft things as other men have said,
That you'll remember. For you need not so.
Give them not praise. For, deaf, how should they know
It is not curses heaped on each gashed head?
Nor tears. Their blind eyes see not your tears flow.
Nor honour. It is easy to be dead.
Say only this, 'They are dead.' Then add thereto,
'Yet many a better one has died before.'
Then, scanning all the o'ercrowded mass, should you
Perceive one face that you loved heretofore,
It is a spook. None wears the face you knew.
Great death has made all his for evermore.
Dulce Et Decorum Est
by Wilfred Owen read by Christopher Eccleston
Click here
Attack
by Siegfried Sassoon read by Gemma Arterton
Click here
In Times of Peace
by John Agard Read by Noel Clarke
Click here
The Next War
by Wilfred Owen read by Alex Jennings
Click here
Suicide in the Trenches
by Siegfried Sassoon Read by Stephen Graham
Remembering World War 1 Some of Britain's finest actors read poetry from World War I
Click here
Anthem for Doomed Youth
by Wilfred Owen Read by Sean Bean
Remembering World War 1 Some of Britain's finest actors read poetry from World War I
Click here
So Below
by By Alex McGinty UoN Creative Writing
Halloween may be over but the spooky season is not, so give this a read to raise goosebumps across your skin!
Click here
Hockley Hustled!
by LytishaPoet
Austerity - pants. Steps by the people to help the people affected by austerity - fabulous. Here's a blog about the #HockleyHustle events in Nottingham on Sunday.
Click here
The Nerve Of It
I was trying to formulate
in my malfunctioning brain cell
an explanation
a credible reason
or even a half baked feeble excuse
to justify
sitting in the
'reserved for the elderly and infirm'
seat. The look on her face
sort of required it. She stood there
expecting
in the way that certain women
with a certain shade of blue rinse
expect. I hesitated. I had already been hesitating
for longer than
expectation allowed. It was clear from the look on her face
that anything I said no matter how well constructed
or nuanced
the argument would go down
like a request
to surrender
her bus pass. I knew the protocol. I made to give up my seat. It was then that it happened. Something dark passed across my face. It was involuntary of course
it would have been unforgivable
for it to be any other way. The something was
I suspect
the visual equivalent
of the screams of children
at just that pitch that no human
at least those not
schizophrenically challenged
or out on the far reaches of the spectrum
can ignore. My eyes probably went black
like a sharks
it is what my wife says they do
at times like this. Slightly shocked
not knowing how to cope
with a look of barefaced agony
of wrenching pain
on her Tuesday morning bus trip
to trawl through the oversized knickers
at Marks and Sparks
she shuffled off
to a less contested seat. Leaving me in peace
to fight the daemons
of a trapped nerve ganglia
through the living hell
that was the ride into town
and as it seems
across the boundary
between middle age
and seats reserved
for those of
a certain age. by Guy Jones
For the Love of George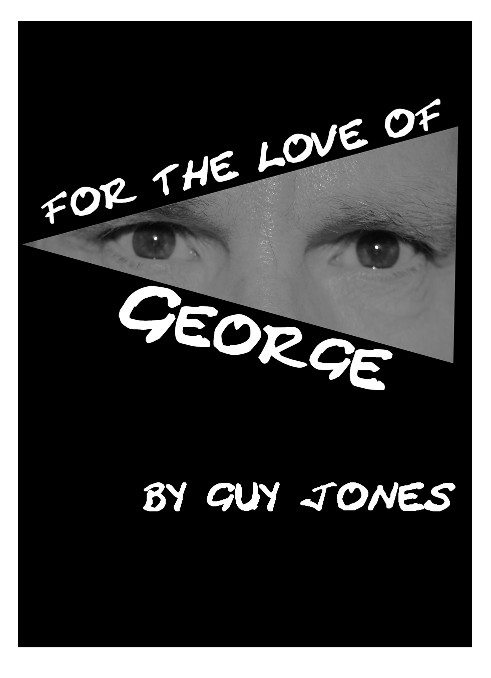 An adaptation of the monologue that was a critical success at the Edinburgh Festival 2000. It follows the experience of a woman trapped in violent marriage and her relationship with George and biology.
Click here