Gunthorpe Nottinghamshire
messing about by the river
Guthorpe is a small village near Lowdham, between Nottingham and Southwell. It has a population of less than a thousand and fits the rather clichéd adjective of 'sleepy' that is often assigned to English villages.
Gunthorpe
It sits very much on the river Trent and it is this, rather than the village itself, that makes Gunthorpe a bit of a Mecca for people looking for nothing much to do of a Sunday afternoon.
Village website
There are 5 pubs and restaurants, several viewing points where you can watch the river traffic go about it's business and a lock.
Pubs near Gunthorpe
And that is all you do at Gunthorpe. Sort of train spotting with boats. But unlike train spotting, it is something that everyone should do every now and then. It is relaxing, the people are very friendly and the food is excellent. A great way to recharge the batteries. It also has quite a bit of history attached to it. It has been an important crossing place for the Trent for as long as history can remember.
The Romans had a ford and a ferry here.
Queen Boudicca is supposed to have sent the IX Legion away with a flea or two in their ears somewhere around here.
The Vikings sailed up the Trent as far as Gunthorpe before exchanging a hectic life raping and pillaged for a quiet retirement farming and ferrying.
Recycle your ink cartridges and help Hothouse keep Oh My Nottz going!
All you have to do is: register with Recycling 4 Charity order the envelops stick them in the post Then the money will come flooding into Hothouse!
Click here to find out more
Gunthorpe
Gunthorpe Stop Motion
Getting There
If you have a car or you know someone gullible who has a car, then getting there is easy enough. Get yourself on the A612 Nottingham to Southwell Road, then turn south at Lowdham. By bus it is less easy. The Rushcliffe Villager goes from Nottingham Collin Street every hour but the last bus back is about 7 p.m. and it doesn't run on Sundays.
Bus timetable
If you've got a boat then what could be better than getting there by the river.
Give to Hothouse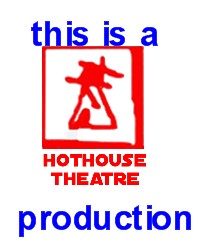 Oh My Nottz is a Hothouse Theatre production. Please support us so we can keep it going.
Donate here