The Lenton Centre
Nottingham
In 2005, the Lenton Community Association took over the running of the Lenton Leisure Centre, which the Nottingham City Council had decided to close down. The building reopened as The Lenton Centre. The gym was re-opened within weeks, but it took until 2008 to re-open the swimming pool. Since then The Lenton Centre has been the heart of the local community and has gone from strength to strength. The Lenton Centre has plenty of facilities:
Swimming Pool
The Lenton Centre Swimming pool is 60 feet x 24 feet - the depth goes from 3 feet to 6 feet They aim to keep the pool between 29.5-30.5 degrees centigrade. The pool is used mainly as a teaching pool for children - but is also open to adults and is used by a number of swimming clubs
Fitness Suit
The Lenton Centre gym has a combination of cardio-vascular equipment, resistance machines and machines for mobility and flexibility. Everything available is designed to support a wide range of different fitness training needs. First-time users are asked to book in for an induction with a qualified trainer.
Room Hire
The Lenton Centre has a wide range of rooms and activity areas suitable for a wide variety of requirements. The small rooms are suitable for Counselling Sessions or up to eight people The larger rooms have been used for circuit training, classroom based tuition, workshops
Give to Hothouse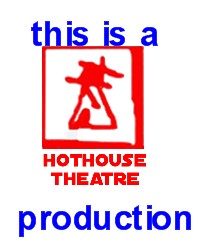 Oh My Nottz is a Hothouse Theatre production. Please support us so we can keep it going.
Donate here
Lenton Centre
Room 1
This Room is light and airy room, situated on the Ground Floor of The Lenton Centre and has good disabled access. It is ideal for all types of meetings, training sessions, mini conferences and workshops. It is also a great venue for activities and parties. Room 1 is for hire 25 pounds per hour including Kitchen
Room 2
This room is situated on the ground Floor and has disabled access. Area: approx.12 Sq m. This room is for hire, 10 pounds per hour
Hall
A large flexible space great for workshops of all kinds. The hall is available for hire from 25 pounds per hour. Please give us a ring for more information.
Kitchen
The kitchen can be used if you rent one of our rooms or if you host a pool party. There is a microwave oven and hot and cold running water.
website
contact The Lenton Centre
Recycle your ink cartridges and help Hothouse keep Oh My Nottz going!
All you have to do is: register with Recycling 4 Charity order the envelops stick them in the post Then the money will come flooding into Hothouse!
Click here to find out more