Stonebridge City Farm
Appeal
Donate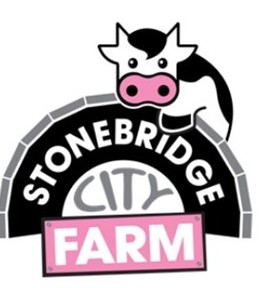 Stonebridge City Farm has been keeping children and their families entertained with it's collection of farm animals since the late 1970's. But it is so much more than that. It is also where people with special support needs can find a place they belong. Where they can take on useful roles mucking out the animals, weeding the gardens or even helping out with the cafe and visitors. Unfortunately, just like most of our voluntary sector projects, the farm is desperate for money. So desperate that it is in danger of folding.
Stonebridge Needs £30,000
Donate
Donate
Don't let Stonebridge City Farm Close
The farm is in urgent need of £30,000 to stay open! Your help could keep the farm open for another 40 years.
Donate
Farm website
facebook page
Donate
About Stonebridge City Farm

So what exactly is a City Farm? On one level, that is obvious. It is a farm ... in the city ... Well that about sorts that out doesn't it? OK, 'farm in the city' is true as far as it goes ... but a city farm is so much more than that. It also depends on the city farm in question. There are a total of over 200 city and school farms and over 1,000 community gardens in the UK. They are all different and there area of speciality comes down to the local community, the staff and volunteers involved and their own particular history. What they all have in common is: they use the process of caring for farm animals and gardening to benefit of the community; they are always friendly places; are dependant on the support of the local community for their continued existence. Stonebridge City Farm was first set up in the 1980's by local people who wanted to do something positive with an area of land that had been earmarked for a primary school, that was never going to get built. The initial aim was to engaged disadvantaged young people in something positive. Over the years, and after several staff and volunteer changes, the focus of Stonebridge shifted. It became a 'work place' for people disadvantaged in society. A place where the real work of mucking out and planting crops, feeding animals and weeding, maintenance and cleaning, could be undertaken in a supportive and positive environment. Volunteers at the farm come from all kinds of backgrounds with all sorts of personal histories. All of them get the opportunity to change their lives for the better. If Stonebridge City Farm didn't exist, you'd have to invent it.