Around the World in 180 minutes
Virtual Trip - part of the Accelerated Literacy Project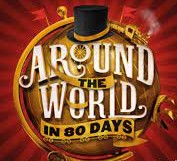 As part the Accelerated Literacy Project's commitment to making learning stuff fun, we organised a virtual trip around the world. Based roughly on Jules Verne's classic Around the World in 80 Days, where Phileas Fogg makes a bet in a London Club, that he could go round the globe in 80 days, it was a great opportunity to take a look at different parts of the world today. Here is your chance to take that virtual trip yourself and see if you can answer the quiz questions on the way. So, hop aboard for the trip of a life time!
Europe
Aerial Britain
Locations take place across the length and breath of Britain. From 'Lands End' the most Southernly point - to the 'Stacks of Dunscansby' the most Northernly. I wanted to demonstrate the beauty and diversity the British Isles have to offer. Iain Mackenzie
click here
Introducing Mediterranean Europe
Start exploring Mediterranean Europe with Lonely Planet's video guide to getting around, when to go and the top things to do while you're there.
click here
Deep Sea Creatures: Mediterranean
What lurks below at the deepest points of the Mediterranean Sea? Equipped with a two-man submarine and a remotely operated deep-sea camera, this team will find out.
click here
Quiz Round 1: Europe
Q1
How many countries make up the UK? Q2
When was the Eiffel Tower built ? Q3
How many species of whale and dolphin are there in the Mediterranean ? Q4
Which is the heaviest bony fish ? Q5
What does the name Mediterranean literally mean?
Africa
History Summarized: Africa 21 mins
This video was produced with assistance from the Boston University Undergraduate Research Opportunities Program.
click here
Africa's Great Civilizations
Watch Africa's Great Civilizations with Henry Louis Gates, Jr.
click here
Rainforests 101 | National Geographic
Rainforests are home to over half of the world's plant and animal species. Learn about tropical and temperate rainforests, how they contribute to the global ecosystem, and the conservation efforts being done to protect these biomes.
click here
Top 10 Best Tourist Attractions In Africa - African Tourism
Welcome to Emmas Top 10 and thanks for watching, in this video, we will be taking a look at some of the most amazing and popular tourist attractions in africa.Africa is the second largest continent in the world with about 1.2 billion people scarttered amongst its 54 countries.
click here
Quiz Round 2: Africa
Q1
How many countries are there in Africa? Q2
What is the longest river in Africa? Q3
What kind of rainforest would you find in Africa? Q4
What is the population of Africa? Q5
What is the largest waterfall in Africa?
The Middle East
The significant & shocking history of the Suez Canal
The Suez Canal is undeniably one of man's most significant creations. And, we managed to build it in the time before computers. In fact, picks, shovels and perseverance ensured that world shipping was revolutionized way back in the late 1800s.
click here
Suez Canal Timelapse - Full Transit HD GoPro
click here
Incredible Life in the Red Sea Coral Reef | BBC Earth
Simon Reeve dives into the Red Sea to get close to its incredible fish and marine wildlife.
click here
10 Amazing Sea Creatures You've Never Seen Before
Deep sea creatures are thought to be scary and weird but in this list, we have covered some of the world's most amazing and beautiful sea animals that you won't believe actually exist in real life.
click here
Quiz Round 3: The Middle East
Q1
How long is the Suez Canal? Q2
How long did it take to build the Suez Canal? Q3
How many countries border the Red Sea? Q4
In which country would you find Mecca?
Advert
Join the Oh My Nottz Production Team!
Are you aged 10-15? Do you live in St. Anns, Sneinton, Bakersfield or on the Honeywood Estate? Have you ever wanted to produce podcasts, radio plays or comedy sketches? Well now is your chance!
Click here